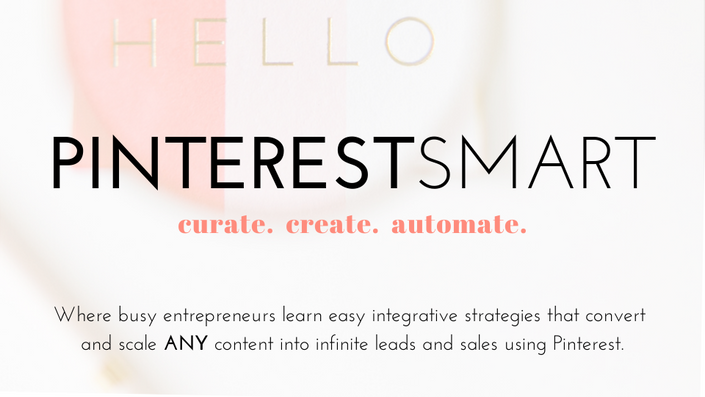 PINTEREST SMART ONLINE COURSE
Where busy entrepreneurs learn smart strategies on Pinterest for exponential audience and income growth so that your business works, even when you don't.
YOU'RE HERE FOR A REASON.
Are you frustrated with the hamster wheel of social media that's bringing you no tangible results? Tired of spending countless hours and money on posts and ads that have little to no reach, and really, just feels like a popularity contest?
Are you discouraged knowing your true audience is out there waiting for you, but you can't seem to connect? To be able to help the ones who would benefit from you most?
Are you overwhelmed with the thought of creating MORE content only to be forgotten minutes after all that hard work was spent in creating your latest freebie, social media post, or podcast. Wondering if the constant hustle is worth it?
Are you just exhausted with #allthethings and wish someone could just tell you what to do that would make your business continuously grow and get in front of the right people?
Don't you wish there was something out there that made a substantial difference but didn't take hours and hours away from what you do best, or better yet, easy enough to give to your VA?
Isn't there some way to work smarter, not harder?
Well yes, yes there is...
and you are COMPLETELY in the right place.
Whether you are a new online business owner or a sage entrepreneurial maverick this course will enable you to master the Pinterest platform in no time, setting you up for long term sustainability and success. This easy to follow, step-by-step program gives you the most efficient strategy to leverage your business to new heights - all on an untapped platform that costs you nothing to engage with the 335+ million customers who are actively searching for what you offer.

You will quickly learn how to optimally set up your account, easily generate eye catching content, then automate it, so you can work less and live more. You'll spend just a few minutes each week utilizing materials already created for your business and take advantage of short cuts and time savers that get your life back and your business seen. The strategic content you create will be relevant for months, even years, and readily found by the people who need you the most.
There are not hours of videos to pour through.

There are no "filler" modules.

There is no fluff.

Just straight forward, clear implementation strategies and examples on how to use Pinterest to get the most out of it for your business.
HERE'S WHAT YOU'LL LEARN
INSIDE PINTEREST SMART
💡 MODULE 1 - BUILDING A SMART HOME BASE
In this module we go through strategically setting up a business account that will continually attract and inspire your ideal customer . I help you...
understand the benefits that come with a business account, whether you're starting from scratch or converting an existing one, and the key components you must have.
generate a clear and irresistible profile that consistently generates warm leads and new email subscribers.
claim your website promoting brand awareness for each and every pin, plus tips for better user experiences which elevates trust and dependability for pinners discovering your brand.
After completing the first module you'll have a rock solid base where your audience is clear on who you are, what you do, and how you can serve them.
💡 MODULE 2 - SMART BOARD CURATION
Module 2 walks you through the importance of brand clarity and authenticity. Here we make sure your Pinterest boards are set up to attract the right people, inspire them to learn more, and set you up as the authority you are. We'll dive into...
creating an account that immediately resonates with your ideal customer.
the secret to strategically staying relevant while still being able to pin what YOU love.
tips for cleaning up your Pinterest "house" in bulk, and organizing whats left.
At the end of module 2 your Pinterest account will clearly reflect your special zone of genius, reflecting who you are and what you do best, and continually attract droves of vested viewers and active participants in the content you share.
💡 MODULE 3 - THE BASICS OF A SMART PIN
In this module, we dissect the anatomy of a smart pin and go into the details and strategies you need to apply to make every pin stand out in the feed, stay relevant to your customer, and get the results intended behind your content. We clarify...
how size plays an important role in standing out above the rest on Pinterest.
how to become an identifiable brand with each and every pin.
how to pre-populate your pins so YOUR information is shared, no matter who pins your content, or where it comes from.
how to consistently be "re-pin worthy" and encourage click-throughs.
At the end of this module, each and every pin will not only represent your brand, but will have a clear intention and path behind it so that you can achieve the growth and reach you deserve while consistently providing coveted, helpful content to your audience.
💡 MODULE 4 - GET FOUND - SMART PINTEREST SEO
Module 4 gets into the nitty-gritty on how to make sure your profile, boards, and pins are set up properly for search engine optimization so your content is discovered by the right people. Every. Time. This inevitably builds trust and converts to more leads and sales 24/7, ensuring non-stop targeted traffic at all times. You'll learn why...
specific board names are imperative and how to get discovered with your details.
pin descriptions can be the make or break of your content conversions.
keywords are key to boosting organic reach.
streamlining your pin creations with existing content can infinitely extend the life of your material.
At the end of this module, you'll know exactly what, why, and how to create content for your business - specifically with the intention to GROW your business.
💡 MODULE 5 - GROUP BOARDS
In this module we explore the art of influence and community and delve into the power of group boards on Pinterest. You learn how to maximize your reach quickly and how to best fast track your growth. You'll also learn...
not only what a group board is, but which groups can help your account, and which can hurt them.
how to find the best group boards for your niche.
the benefits of starting your own group board.
After the completion of module 5 you will have mastered the crucial strategies and intentions behind group boards. You will posses a true understanding of the importance of collective effort and be able to successfully navigate your inclusion for maximum reach.

💡 MODULE 6 - SMART STRATEGIC GROWTH ON AUTOPILOT
By this time, you have mastered the nuances of creating, building, and nurturing your ever-growing Pinterest account, now what? In module 6 it's time to put all your hard work and efforts into working for you - ON AUTOPILOT. With a little strategy magic, we explore the options for scheduling and looping pins using easy tools, all done in just a few minutes a week. You'll discover...
how to stay relevant on the platform and outsmart the smart feed.
how to strategically activate the boards that continually draw your ideal customers.
how to batch content for the week or month, freeing you up for the things you enjoy most - away from your computer!
At the end of module 6 you will be able to implement a process to automate your account, freeing up YOUR TIME while your business stays on a path of continued growth and constant lead generation. You will understand the tools and options available to you and knowingly make decisions that are best for you and your business.
This wouldn't be as much fun without bonuses...
so here's what else you'll get!
⭐ BONUS ONE - MOMENTUM TRACKER + COURSE ACTION WORKBOOK
An all in one workbook designed for you to easily keep track of your stats, strategies, and success! Visually witness the upward momentum your business gains while implementing what you've learned in the Pinterest Smart Program. The workbook guides you through each module, prompting your results with easy to follow, step-by-step actions to take that maximize your success.
⭐ BONUS TWO - 10 SMART FEED OPTIMIZED TEMPLATES FOR CANVA
These templates make it so easy to get started on Pinterest. Perfect for re-purposing existing content or creating new, these templates stand out in the feed and are perfect for Instagram and Facebook posts, products, blog posts, website content, freebies, videos, podcasts and more! Customize them with your brand colors and fonts and you'll have your very own custom templates to use whenever you need them!
⭐ BONUS THREE - PINTEREST SMART SOCIAL
You are on social, isn't it about time you made those platforms work FOR YOU? We go through super easy hacks for re-purposing your existing content and giving it an eternal life on Pinterest - most can even be done on your phone!
⭐ HOW TO PIN FROM INSTAGRAM TO PINTEREST & PINTEREST TO INSTAGRAM!

⭐ HOW TO PIN FROM FACEBOOK TO PINTEREST & PINTEREST TO FACEBOOK

⭐ HOW TO PIN AND PROMOTE YOUR PODCAST ON PINTEREST

⭐ HOW TO PIN VIDEO TO PINTEREST

Your Instructor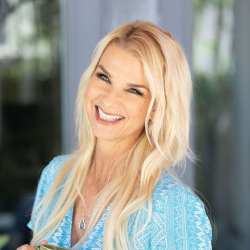 You might be asking, who is this girl? I'm a friendly, introverted, serial entrepreneur, born and raised in Southern California, who has spent the last 10+ years growing two creative online businesses. I'm a dedicated mother and wife, DIY fanatic, and insatiable learner. And I'm just gonna say it...I absolutely LOVE Pinterest.
I discovered what Pinterest can do for my online business almost by accident, after finally reaching out to my customers when my incoming orders started increasing on a daily basis by over 10x. I figured it was due to the social media posts I was struggling to create every day, but nope, my customers all told me the same thing...Pinterest.
Sure enough I checked my analytics, and over 95% of my traffic was coming from Pinterest. Stuff I had set up a long time ago was bringing in paying customers.A lot of them. It was an eye opener, and I haven't looked back since.
Since then I noticed a gap in the marketplace, who was guiding us... the entrepreneurs, the self-starters, the creatives? Unless you were a blogger, there wasn't much out there to make it easy for successful entrepreneurs, authors, coaches, online course creators, and podcasters to establish themselves with authority on Pinterest. To do it with concise efficiency. I mean, we're a busy bunch.
That's where I come in. I've walked this walk and greatly benefit from the results.

I take the smart strategies I've learned, and pair it with the need for efficiency in our time crunched schedules, to teach busy entrepreneurs simple and complementary marketing strategies using Pinterest so they can get EXPONENTIAL audience and income growth. That means MORE CLIENTS, MORE TRAFFIC, MORE INCOME, AND ULTIMATELY MORE TIME FOR YOU - so your business is always working, even when you're not.
That's just smart.
Frequently Asked Questions
When does the course start and finish?
The course starts now and never ends! It is a completely self-paced online course - you decide when you start and when you finish.
How long do I have access to the course?
How does lifetime access sound? After enrolling, you have unlimited access to this course for as long as you like - across any and all devices you own, PLUS, any future updates to the course contents (ya know, in case there are any changes to the platform).
What if I am unhappy with the course?
I never want you to be unhappy! If you complete the course, execute the strategies, and still see no results... contact me within the first 30 days of purchase and I will give you a full refund. This course was designed to bring your business to the next level and I want that just as much as you do!
Is this course right for me?
Are you an entrepreneur who wants to see your business grow long into the future without having to constantly hustle? Do you know who your audience is? Are you creating content for Facebook, Instagram, your website, blog, or podcast? THEN YES! See how easy it can be to establish your business on a search engine the smart way, and give your business the longevity and continual presence it deserves!
Is this platform easy to learn? Could I give it to my VA?
Very much so, yes. This program is laid out in a clear and easy to understand way. Each module shows you step by step instructions on how to build your Pinterest account into a traffic, lead, and income generating machine. The steps are actionable and build upon each other, and very easy to delegate to a team member if needed. The actionable PDF format of the course can eliminate time spent on long videos and save you money as well!
Is there any support?
YES! There is guidance, support, and feedback given in our Private Facebook group once your join the course. This is a supportive community of like minded entrepreneurs and a great place to validate ideas and get questions answered. You can always reach out to us via email as well!